Coworking space in Lusaka| Hot desks| Private Desks​
The best flexible workspaces for Lusaka's best businesses. Rent high-quality flexible office spaces and connect with professionals in our vibrant Pan African coworking spaces. Walk into one of our facilities in Lusaka or reserve your space online in any of our locations across the continent.
Coworking in the area.
AfricaWorks Lusaka is a haven for businesses, solopreneurs, and freelancers in Zambia.
Coworking solutions that work
Work with confidence. AfricaWorks provides high-quality modern coworking and flexible workspace services to businesses in Lusaka.
Hot desk
All the facilities of a professional office in an inspiring shared workspace. For freelancers and entrepreneurs on-the-go, AfricaWorks hot desks is the perfect place for collaboration and productivity.
Lusaka Dedicated desks
Reserve a desk in any of our high quality shared workspaces.
Features
Reserved for you
Collaborate with like-minded professionals
Work from any of our locations in Lusaka and across Africa
Lusaka Private Offices
Your very own Private Office for single entrepreneurs or large-sized teams in Lusaka. You benefit from a 24/7 fully functional modern flexible corporate office space.
Enterprise solution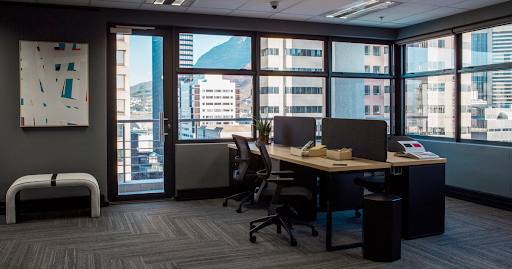 AfricaWorks's Enterprise solutions allow businesses to create a space with their own branding, conference rooms, executive offices, common areas, and amenities. AfricaWorks prime location makes it a top choice for people looking for the best office space in Lusaka.
See how Universal Music Group customized their workspace at AfricaWorks.
Features and services in AfricaWorks Coworking Space
24 hours light
High speed internet
Modern meeting rooms
Board rooms
Call booths
Valet parking


More ways to work.

Flexible Office Space in Lusaka Zambia

The perfect place for your team to focus and do work that counts while we take care of the rest.

Learn more

Coworking

Be part of a vibrant coworking community with dedicated desk or hot-desking options.

Learn more

Virtual Offices in Lusaka Zambia

Get a location for your business correspondence. Build an instant presence wherever you need to be.

Learn more

Membership

Get access to a continent-wide network of workspaces and shared offices as often as you need.

Learn more

Meeting Rooms

Book any of our flexible high-quality meeting rooms for events, trainings, meetings, seminars, conferences and discussions

Learn more
Answers to your coworking questions
How to find flexible office space in Lusaka?
AfricaWorks provides modern flex workspaces for you and your team. You can drop in and rent any of our spaces or check available spaces online.
Got Questions?
Contact lusaka@africaworks.co
Best Coworking Space Lusaka?
AfricaWorks is the best coworking space in Lusaka. Providing all you need to get the best result. Choose a shared office or book a private office.
Can I book a coworking desk for a day in Lusaka?
Yes, you can use a shared workspace in Lusaka as long or as short as you need. Rent a hot desk for as little as an hour a day.
Is coworking better than renting an office space?
A coworking space provides businesses with the flexibility to embrace the hybrid work model without the burden of expensive long term leases.
Is a hot desking better than private offices?
Hot desks are a great option for companies or individuals who have a heavy travel schedule or work from multiple locations. Unlike private offices, there are no assigned seats or cubicles.  You can show up to work and find that someone else has your favourite seat!
What does a coworking membership include?
A coworking membership in a premium space like AfricaWorks gives you a Pan African community to work, network and grow your business. You also get access to modern amenities as well as the option to customize your space as you require.
Discover Lusaka's best coworking spaces
AfricaWorks is the best location for you and your team to grow thrive and find all your business needs. Whether you are a startup or scaleup, find the perfect place to work. Prices vary based on the size of the space and the amenities you choose.