Best coworking spaces in Accra| Ultimate list
If you're looking for the best coworking space in Accra, here are the top recommendations: AfricaWorks, iSpace Ghana, BaseCamp Initiative, Ghana Tech Hub, Kukun, Impact Hub.
Each one offers something unique to its members and community. Check them out and decide for yourself which one is right for your company.
Discover Accra's best coworking spaces
A thriving business community and vibrant entrepreneurial ecosystem make Accra the perfect location for startup companies to find the best coworking spaces in Ghana. From high-profile corporate offices to modern coworking lofts, Accra is full of options. Monthly offices are an ideal way to find a launch pad, hub for a project team or a long-term home for a business. They make it easy to work without the hassle of brokers and leases.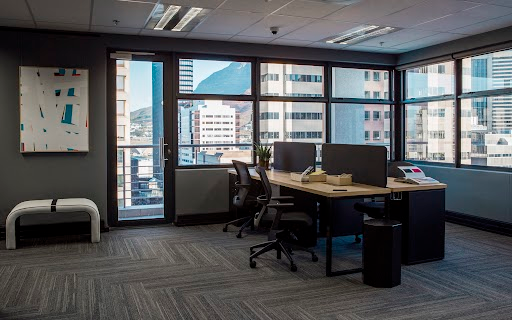 AfricaWorks
Trusted by multinationals and fast growing startups like Loreal, Paystack, Glovo, Toyota and Universal Music Group, AfricaWorks comes top on the list. AfricaWorks provides high quality modern coworking and flexible workspace to businesses in Accra.
Beyond providing hot desks, coworking office space and private desks, AfricaWorks is one of the few workspace providers in Accra to offer private offices and enterprise solutions for larger businesses.
AfricaWorks's Enterprise solutions allows businesses create a space with their own branding, conference rooms, executive offices, common areas, and amenities. AfricaWorks prime location makes it a top choice for people looking for the best office space to work in Accra.
See how Universal Music Group customized their workspace at AfricaWorks.
Features and services in AfricaWorks Coworking Space
24 hours light and Wi-Fi
Modern meeting rooms
Board rooms
Call booths
Valet parking


BaseCamp Initiative Accra
The basecamp Initiative is a creative and communal hub for remote workers, artists, and lifestyle enthusiasts. In addition to coworking areas, the workspace includes private offices, event spaces, and a design studio. The space provides space for business meetings and events, and encourages creativity with workshops and training sessions. In addition, the space is located in East Legon, Accra-Ghana. A brief history of the space follows below.
The workspace is available on weekdays, and on weekends is reserved for events. The workspace is designed for individuals who love to learn and collaborate, and it also houses several incubator programs. The community focuses on developing innovative solutions to Africa's health care systems, so members can focus on their work without distractions. Dedicated membership is GHC200 per month. While there are a variety of options to consider in Accra, BaseCamp is the most affordable option for most entrepreneurs.
Kukun

Kukun offers fully furnished serviced office spaces in Osu. The workstation encourages socialization, collaboration, and brainstorming. Kukun workspaces come with meeting rooms and training rooms.

Kukun is open during the week and is reserved for events on weekends. The makerspace runs numerous incubator programs and offers mentorship. It is a community for creative people who love to learn and collaborate.
iSpace Accra Ghana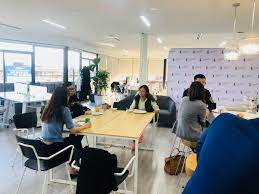 iSpace Accra offers an array of services that are dedicated to help small businesses thrive. Members enjoy networking opportunities, funding opportunities, a serene workspace, and access to mentorship and training.
iSpace Accra Ghana is a great place for co-working and small tech meet ups. It's got friendly staff, and tucked in a quiet neighborhood, though quite far from the city center. This co working space is available for a range of purposes, including events, meetings, and social gatherings.
Impact Hub
Impact Hub is a home for innovators and entrepreneurs that is locally anchored, globally linked, and inclusive. Their inspiring plug-and-play locations serve as a great hive for businesses. Impact Hub provide decent co-working office spaces, private office space, conference room rentals, lively networking events, incubation and acceleration programs.
WorkShed
Located off Spintex Road, WorkShed offers flexible payment plans and desk spaces. It also offers amenities, including meeting rooms, happy hours, and flexible payment plans. The space is in close proximity to the Accra Goods Market, a pop-up market that showcases the best of Ghanaian culture. Workshed aims to provide you with a conducive office space to thrive.
Ghana Innovation Hub
The Ghana Innovation Hub is a coworking space located in the heart of the Accra digital district. The center welcomes both long and day users. Its facilities include a spacious coworking area, private office spaces, a boardroom, a separate brainstorming space, and a large training/event space. In addition to affordable desk space, the center also offers training and tools to help its members grow their business.
In addition to offering flexible office space for entrepreneurs, this flexible co working space offers accelerator and business incubator services that focus on nurturing innovative ideas and developing the local tech community.
Answers to your coworking questions in Accra
How to find flexible office space in Accra
With fast road links and Kotoka International Airport, Accra is well connected to other parts of Ghana. Fully-equipped flexible office spaces in Accra can help you expand your business and stay close to the city's center. Looking for a flexible office solutions ? Check out AfricaWorks.
Best Coworking Space in Accra
AfricaWorks is the best coworking space in Accra. If you're looking for a place to work or grow your business in Accra, then you should check out AfricaWorks. This innovative space is aimed at bringing the best in technology and coworking to the Ghanaian market. AfricaWorks operates in nine cities across Africa, and has a bespoke solution for each business.
AfricaWorks' mission is to develop the entrepreneurial DNA of the African continent, and aims to become the leading pan-African business community by creating dedicated support centers for its entrepreneurs. Currently, it boasts clients such as L'Oreal, Universal Music Group, Paystack and Glovo.
How Much Do Flexible Office Spaces cost in Accra?
The average price of renting a shared desk start from GHS 1,560 to GHS 2,115 per person monthly. These prices are based on a 24-month contract. These are estimated prices and might vary by number of people, size of the space and specific working requirements. Contact the space to get brief.
Can I book a coworking desk for a day in Accra?
Yes, you can use a shared workspace in Accra for as long or as short as you need. Rent a hotdesk from as little as an hour a day.
What types of workspace can you rent in Accra?
There are a lot of options for freelancers, small businesses and large corporation to work. You can choose a hot desk, private office or an enterprise solution. Accra has several workspaces to you choose the space closest to your location.
What does a coworking membership include?
A coworking membership in a premium space like AfricaWorks gives you a Pan African community to work, network and grow your business. You also get access to modern amenities like fibre internet, high quality flexible offices, ergonomic furniture, kitchenette, dedicated meeting rooms, phone boothes, valet services as well as the option to customize your space as you require.
Takeaway
There are lots of suitable coworking spaces in Accra for freelancers, startups and small businesses in Accra to chose from. If you a freelancer or solopreneur looking for a coworking space you might consider a hot desk. Bigger businesses can opt for a private office or an enterprise solution.